Wooden Spoon
I was very lucky growing up because no one ever spanked me. But Nagymama sure did threaten! Whenever I did anything out of line, she could grab a wooden spoon and wave it at me, or pretend that she was going to hit me with her "Papucs".
So, one day, we had a Jehovah's witnesses at the door, and as usual, my family felt guilty and let him in to give his monologue. I was playing with Barbie too loudly or something and everyone stopped in their tracks. Nagymama took one look at me and screamed, "Hol van a fa kanál?!" ("Where is the wooden spoon?") A fairly normal threat to someone who speaks Hungarian, but this is what that sentence probably sounds like to an English speaker: "Holy one, oh fuckin' hell!" He looked a little disturbed at Nagymama's rants and promptly left.
A few weeks later, he rang our doorbell again, but this time, he brought backup – two more Jehovah's witnesses. My mom whispered, "Stephie, go to the door and tell dem dat we are Jevish."
I was confused.
"But, I thought we were Christian…"
"Yes, yes, but Jevish sounds more religious. It's not possible to not be Jevish.  So let's pretend  so dey don't come back."
Somehow I don't think it was "being Jewish" that made them stop coming. It was probably that fa kanál.
Update: 3/3/10: So many people seem to relate to this story that I decided to make a T-shirt for anyone that would like to commiserate: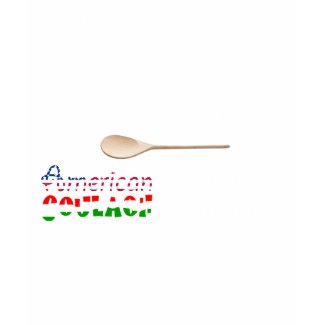 American Goulash "Fakanál" Shirt
by
shinygrape
(Make sure you
use a coupon code
if yah buy one!
)